Choosing the best knife for your purposes comes down to comfort and application.
Chef's Knife
The most commonly used kitchen knife is the Chef's knife.
In general a chef's knife is 8 to 10 inches long and has a smooth tapering blade with a sharp point. This is a solidly constructed knife with a stiff blade. It is used to chop vegetables or cut meat. General heavy food preparation. High carbon stainless steel is the best as it will hold the edge the longest.
Boning Knife
The boning knife has a slender blade often a slightly up swept tip.

This knife is designed for tip use and has a stiff blade. Just as the name describes the sharp tip is used to separate meat from bone. This could be chicken, beef or pork. The point area of the knife should be razor sharp to allow for easy separation of the meat.
The boning knife can also be used when stuffing meat to create the slice in the meat for the filling. Again this is mostly tip cutting.
The Paring Knife
The paring knife is a small flexible blade usually 3 to 4 inches long. It looks like a smaller version of the chef's knife. Its tasks are similar but on a smaller refined scale.
This knife is primarily used for pealing fruits and vegetables, or making decorative cut designs. It is light and versatile and is one of the most commonly used tools in the kitchen. High carbon stainless steel is best for durability.
The Bread Knife
The bread knife is a long flexible blade that usually has heavily serrated teeth.
Bread knives often have very weak flexible blades but the better quality ones are a bit thicker and a bit stiffer. This allows for a better and straighter cut on soft freshly baked bread. This knife is often used daily and should be made of high carbon stainless steel. The actual cutting hardly dulls the blade although the through cut into the cutting board can be hard on the edge.
The Carving Knife
Do we all have fond memories of a roast beef or turkey being carved at the diner table? The carving knife is an essential tool if you serve roasted meat dishes.
Carving knives are usually 8 to 10 inches long and have a razor sharp cutting edge. In shape they are similar to a chef's knife but slimmer and more flexible. This knife should be sharp enough to cut through the most tender meat and not pull it apart or shred it. A good compliment to the carving knife is the carving fork. If presentation is important buy the set.
Sharpening Stones and Steels
A knife should be kept sharp. A sharp knife is safer and cuts so much easier giving you less strain and irritation. All knives will dull with use. Different steels will have dramatic difference in wear but all will eventually need to be sharpened.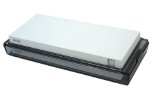 The best tool for sharpening is a wet stone. This takes a bit to learn but produces the best razor sharp edge. It is suitable for all straight edge knives. It doesn't work well for serrated edge knives.
A diamond steel will quickly and easily sharpen most knives.
The diamond steel has tiny fragments of industrial abrasive diamonds bonded to the steel. The diamonds quickly remove the dulled edge on the knife. These are easy to use for sharpening and with care can be used on serrated edges.